Playing History
| Season | Division | | | G2G | | | Win % | Draw % | Loss % |
| --- | --- | --- | --- | --- | --- | --- | --- | --- | --- |
| 1972-73 | Division Two | 20 (1) | 1 | 0.05 | 0 | 0 | 19.0% | 9.5% | 71.4% |
| Totals: | | 20 (1) | 1 | | | | | | |
Apps = First Team Appearances (Sub Appearances) | Gls = Goals
Cln = Clean Sheets | CtGR = Clean Sheets to Games Ratio | W/D/L - Games won, drawn or lost as percentage of games played in
Yel = Yellow Cards/Cautions | Red = Red Cards/Dismissals
List of Goals Scored (click to expand)
List of Games Played (click to expand)
| | | | | | | |
| --- | --- | --- | --- | --- | --- | --- |
| Dec 23rd, 1972 | 23/12/72 | Scottish Cup | 1st Round Replay | vs. Brechin City (H) | 1 - 2 | (sub) |
| Dec 2nd, 1972 | 02/12/72 | League | Division 2 | vs. Stranraer (A) | 0 - 4 | |
| Nov 28th, 1972 | 28/11/72 | Stirlingshire Cup | 1st Round | vs. Falkirk (A) | 3 - 5 | |
| Nov 18th, 1972 | 18/11/72 | League | Division 2 | vs. St Mirren (A) | 0 - 4 | |
| Nov 4th, 1972 | 04/11/72 | League | Division 2 | vs. Alloa Athletic (H) | 2 - 3 | |
| Oct 7th, 1972 | 07/10/72 | League | Division 2 | vs. Forfar Ath (H) | 4 - 1 | |
| Sep 30th, 1972 | 30/09/72 | League | Division 2 | vs. Cowdenbeath (A) | 0 - 2 | |
| Sep 27th, 1972 | 27/09/72 | League | Division 2 | vs. Brechin City (H) | 2 - 1 | |
| Sep 23rd, 1972 | 23/09/72 | League | Division 2 | vs. Hamilton Accies (A) | 4 - 1 | |
| Sep 20th, 1972 | 20/09/72 | League | Division 2 | vs. Stirling Albion (A) | 0 - 3 | |
| Sep 16th, 1972 | 16/09/72 | League | Division 2 | vs. Raith Rovers (H) | 1 - 1 | |
| Sep 13th, 1972 | 13/09/72 | League | Division 2 | vs. Stenhousemuir (H) | 1 - 2 | |
| Sep 9th, 1972 | 09/09/72 | League | Division 2 | vs. East Stirlingshire (A) | 2 - 4 | |
| Sep 6th, 1972 | 06/09/72 | League | Division 2 | vs. Brechin City (A) | 1 - 3 | |
| Sep 2nd, 1972 | 02/09/72 | League | Division 2 | vs. Stirling Albion (H) | 0 - 3 | |
| Aug 30th, 1972 | 30/08/72 | League Cup | Group 3 | vs. St Mirren (H) | 3 - 3 | |
| Aug 26th, 1972 | 26/08/72 | League Cup | Group 3 | vs. Rangers (H) | 0 - 5 | |
| Aug 23rd, 1972 | 23/08/72 | League Cup | Group 3 | vs. Ayr Utd (A) | 0 - 5 | |
| Aug 19th, 1972 | 19/08/72 | League Cup | Group 3 | vs. St Mirren (A) | 2 - 4 | |
| Aug 16th, 1972 | 16/08/72 | League Cup | Group 3 | vs. Ayr Utd (H) | 1 - 0 | |
| Aug 12th, 1972 | 12/08/72 | League Cup | Group 3 | vs. Rangers (A) | 0 - 2 | |
Biography
Clydebank always had the accent on youth in the senior years, particularly in the early days. However, they always had an "auld heid" around to give the youngsters a guiding hand and to make sure the squad had some much needed experience. Pat Delaney was one such player.

Pat had a long career at Motherwell playing for the Fir Park side well over 200 times, and subsequently had top tier stints at Dunfermline, Clyde and Airdrie.

When he joined Clydebank in the summer of 1972 he was in the twilight of his career. After two decent seasons, the Bankies were a poor outfit and by the end of November the club were struggling at the foot of the table. Despite playing almost every game it was clear that Pat was past his best.

After losing his place to the emerging Norrie Hall, it was decided to let Pat leave the club in January. A swap deal was arranged with Albion Rovers with Pat heading to Cliftonville along with a four figure sum, and Bobby Tuddenham coming to Kilbowie.

Pat played one more season with Albion Rovers before hanging up his boots.


Debut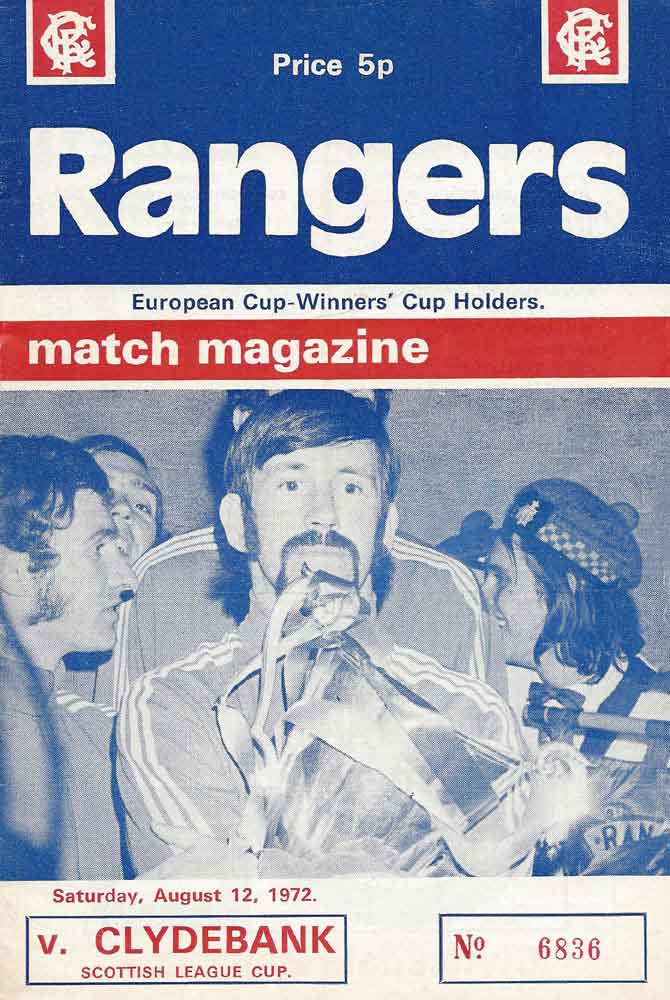 August 12th, 1972
Rangers 2 - 0 Clydebank FC
League Cup (Group 3)
Timeline
---
Date of Birth


Pat was born on this date

---

Signed For Clydebank FC


Pat was signed from Airdrieonians

---

First Non-Competitive Appearance (Friendly)

Clydebank FC 1 - 0 Rochdale
Friendly

The Killer instinct of Jimmy Caskie won this pre-season challenge game at Kilbowie in the 20th minute. It acted as a shake-down performance for the new-look Bankies who fielded Andy Roxburgh, Gregor A

---

First Team Debut

Rangers 2 - 0 Clydebank FC
League Cup (Group 3)

There was a pang of pity in my heart on Saturday afternoon about 2.50 pm. Down below my seat in the Press box the Rangers players were being presented with their European Cup Winners Cup medals and th

---

League Debut

Clydebank FC 0 - 3 Stirling Albion
League (Division 2)

"They are all going home." sang the Stirling Albion fans when the Clydebank supporters started filing out of Kilbowie immediately Albion's third goal hit the net. And who could blame the home fans?

---

First Goal

Clydebank FC 2 - 3 Alloa Athletic
League (Division 2)

Wasps are industrious little insects, fascinating to watch, but having an unfortunate habit of turning nasty without much warning. And Alloa, the second division side which uses the wasp's name as a n

---

Last Appearance

Clydebank FC 1 - 2 Brechin City
Scottish Cup (1st Round Replay)

For fifty minutes both sides had played with a goal apiece and there seemed little likelihood of this deadlock being broken.Then Brechin were awarded a free-kick out on the left, halfway insid

---

Left the Club


Pat was given a free transfer to Albion Rovers

---
Player Gallery
Sorry, there are no cards or stickers available for this player.
---
Magazine Articles
Sorry, there are no magazine articles available for this player.