Playing History
| Season | Division | | | G2G | | | Win % | Draw % | Loss % |
| --- | --- | --- | --- | --- | --- | --- | --- | --- | --- |
| 1979-80 | First Division | 24 (7) | 0 | - | 5 | 0 | 25.8% | 19.4% | 54.8% |
| 1978-79 | First Division | 45 | 3 | 0.07 | 5 | 1 | 57.8% | 15.6% | 26.7% |
| 1977-78 | Premier Division | 37 | 1 | 0.03 | 4 | 0 | 21.6% | 21.6% | 56.8% |
| 1976-77 | First Division | 42 (3) | 1 | 0.02 | 1 | 2 | 60.0% | 24.4% | 15.6% |
| 1975-76 | Second Division | 48 | 4 | 0.08 | 5 | 0 | 64.6% | 14.6% | 20.8% |
| 1974-75 | Division Two | 42 | 2 | 0.05 | 3 | 0 | 45.2% | 14.3% | 40.5% |
| 1973-74 | Division Two | 37 | 1 | 0.03 | 1 | 0 | 35.1% | 21.6% | 43.2% |
| 1972-73 | Division Two | 37 (3) | 0 | - | 1 | 0 | 20.0% | 20.0% | 60.0% |
| 1971-72 | Division Two | 42 (2) | 0 | - | 0 | 0 | 47.7% | 25.0% | 27.3% |
| 1970-71 | Division Two | 9 (1) | 2 | 0.20 | 0 | 0 | 40.0% | 50.0% | 10.0% |
| Totals: | | 363 (16) | 14 | | | | | | |
Apps = First Team Appearances (Sub Appearances) | Gls = Goals
Cln = Clean Sheets | CtGR = Clean Sheets to Games Ratio | W/D/L - Games won, drawn or lost as percentage of games played in
Yel = Yellow Cards/Cautions | Red = Red Cards/Dismissals
List of Goals Scored (click to expand)
| | | | | | | |
| --- | --- | --- | --- | --- | --- | --- |
| Mar 13th, 1979 | 13/03/79 | League | Division 1 | vs. Stirling Albion (A) | 3 - 2 | (49') |
| Sep 16th, 1978 | 16/09/78 | League | Division 1 | vs. Hamilton Accies (H) | 4 - 1 | (55') |
| Sep 13th, 1978 | 13/09/78 | League | Division 1 | vs. Stirling Albion (H) | 5 - 2 | (45') |
| Aug 6th, 1977 | 06/08/77 | Stirlingshire Cup | 1st Round | vs. Stenhousemuir (A) | 6 - 1 | (41') |
| Aug 25th, 1976 | 25/08/76 | League Cup | Group 8 | vs. Queen of South (A) | 4 - 1 | (25') |
| Apr 28th, 1976 | 28/04/76 | Spring Cup | Semi Final | vs. Dumbarton (N) | 3 - 1 | (74') |
| Apr 3rd, 1976 | 03/04/76 | Spring Cup | Group 6 | vs. Clyde (H) | 3 - 0 | (44') |
| Apr 3rd, 1976 | 03/04/76 | Spring Cup | Group 6 | vs. Clyde (H) | 3 - 0 | (25') |
| Aug 30th, 1975 | 30/08/75 | League | 2nd Division | vs. Brechin City (H) | 3 - 0 | (25') |
| Mar 29th, 1975 | 29/03/75 | League | Division 2 | vs. Raith Rovers (H) | 3 - 2 | (75') |
| Nov 2nd, 1974 | 02/11/74 | League | Division 2 | vs. Stirling Albion (A) | 3 - 3 | (57') |
| Aug 25th, 1973 | 25/08/73 | League Cup | Group 9 | vs. Brechin City (A) | 2 - 2 | (89') |
| Apr 24th, 1971 | 24/04/71 | League | Division 2 | vs. Forfar Ath (A) | 1 - 1 | (61') |
| Dec 12th, 1970 | 12/12/70 | League | Division 2 | vs. Alloa Athletic (A) | 3 - 1 | (57') |
List of Games Played
Sorry, there are too many games to display for this player.
Biography
During his ten year spell at Kilbowie, Norrie Hall was always one of the first names on the teamsheet, as his hard tackling and over-lapping qualities made him a hit with fellow players and fans alike.

Norrie Hall was one of the first players to be praised highly with the tongue in cheek song "They call him Norrie Hall" with the second line of the first verse being "Because he's only got one leg".

Norrie was drafted into the Clydebank squad in 1970 and made his debut against Berwick Rangers in the unfamiliar inside-forward position due to injuries. He then spent a fair amount of time on the bench before being given a chance towards the end of the season in the defensive position that is associated with him.

Most people would instantly place Norrie Hall as a right back, but he played a significant part of his early career in the centre of defence, and it was only in 1974-75 that the full back role became his own. This was due to the departure of Davie Mitchell who himself had played over 300 games for the club.

This was another piece of the puzzle fitting together that would be pivotal in forming the great Clydebank team that won successive promotions to the Premier League just a year or so later. His Second Division Championship medal in 1975-76 was the only winners medal he won in his senior career, and he nearly blew it.

The Bankies were second in the league with one game to go, one point behind Raith Rovers with a better goal difference. Rovers had completed their programme, and Clydebank had to travel to third place Alloa for a 6.30 kick off as Recreation Park did not have floodlights, knowing a draw would be enough for the title. Clydebank found themselves under pressure from the get go but had a golden opportunity when Davie Cooper was pulled down in the box. Cooper did not want to take penalty as he had missed one the week before. Strangely, noted penalty takers Billy McColl and Jim Fallon did not come forward either. Cometh the hour, cometh the man, it fell to Norrie Hall to take the first and only spot kick of his whole Bankies career. Under the circumstances it was no surprise that he missed as keeper pushed his effort away. This set up a second half where the Bankies were under intense pressure but they held out and Norrie and his team mates got the glory.

The following season the Bankies went from strength to strength as the club were promoted to the Premier League. Unfortunately, the Bankies were unable to survive in the top flight after the loss of Davie Cooper and Mike Larnach. Norrie was to stay at Kilbowie for two more seasons but by 1979-80 Clydebank had gone into a mini-decline and a young Tony Gervaise was making a claim for the right back berth.

Norrie played his last match for the club against Stirling Albion on the 26th of April 1980, and was appointed captain for the occasion and the score was a 1-0 defeat. The Steedman family were not renowned for allowing players to have testimonials and it is poor show that Norrie was allowed to leave the club without having this honour bestowed upon him.

An odd statistic about Norrie is that he scored 14 goals for Clydebank, and in those games not once did the Bankies lose, with 11 wins and two draws (he scored a double in one match)

After he left Kilbowie, Norrie joined Pollok and in his first full season led the club to their first ever Scottish Junior Cup victory beating Arthurlie one goal to nil in the final, with another Bankie, Stewart Auld, in the line-up. Pollok had Norrie to thank for getting them to the final as his goal against Forth Wanderers in the semi-final replay at Love Street was the game's only goal.

Norrie played 378 times for the Bankies and is only eclipsed by the legends that are Jim Fallon and Jim Gallacher. Norrie Hall would surely have been one of the first inductees into the Bankies Hall of Fame, however he passed away in 2011 at the relatively young age of 59 though moves have been made to do this posthumously in the future.


Debut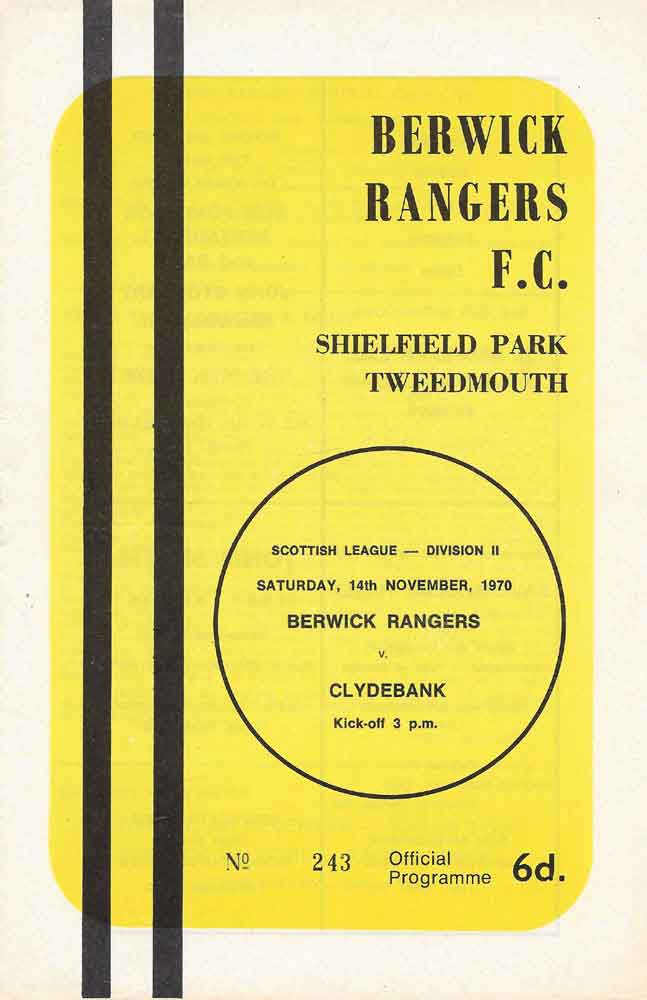 November 14th, 1970
Berwick Rangers 1 - 1 Clydebank
League (Division 2)
Timeline
---
Date of Birth


Norrie was born on this date in Springburn.

---

First Team Debut

Berwick Rangers 1 - 1 Clydebank
League (Division 2)

Although Berwick failed to win their improvement continued in an entertaining game with Clydebank at Shielfield.Rangers did more than enough to take the points and even before John Stoddart fa

---

First Goal

Alloa Athletic 1 - 3 Clydebank
League (Division 2)

With Recreation Park churned into a quagmire, Clydebank surmounted the conditions for a well-deserved win.Caskie made all three of their goals, Kane scoring the first two in the 10th and 21st

---

100th Appearance

Clydebank 1 - 3 East Stirlingshire
League (Division 2)

Clydebank, playing their first home league game this season, looked as though they were shocked when, after half an hour of play, East Stirling went ahead. A quick free kick from Donnelly took the Ban

---

100th League Appearance

Clydebank 1 - 1 St Mirren
League (Division 2)

Clydebank took the field at Kilbowie Park hoping for a return to winning form following the midweek lapse against Stirling Albion. Three of the youngsters - Keeper Matson, Provan and Fanning - were d

---

200th Appearance

Stenhousemuir 2 - 1 Clydebank
League (2nd Division)

Bankies had one enforced change for their visit to Stenhousemuir. Jimmy Caskie missed out through injury and Ian Browning was drafted into a re-arranged forward line, for his long awaited debut.

---
Player Gallery
Sorry, there are no cards or stickers available for this player.
---
Magazine Articles
Sorry, there are no magazine articles available for this player.